Spider-Man and Super Mario win in October as console sales fall | UK Monthly Charts
Absence of Call of Duty makes for a tough comparison with October 2022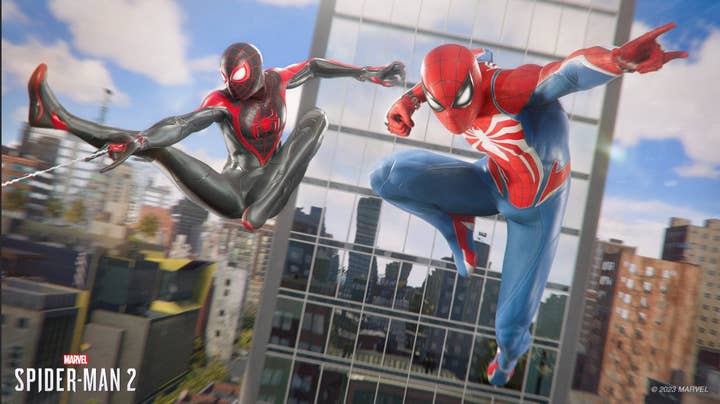 Due to a technical situation at the charts company, we are using GfK data for physical game sales this month.
1.6 million digital games were sold in the UK during October (GSD data), a drop of 24% over the year before.
Meanwhile, GfK data shows that physical game sales are up slighty (+8%) to 1.08 million games sold.
The main reason for the overall drop is the fact that Call of Duty: Modern Warfare 2 launched in October last year, whereas this year's Call of Duty landed in November.
There was also a drop in sales for this year's football game. EA Sports FC 24's first week sales, looking at GfK and GSD numbers together, are 16% lower than last year's FIFA 23. 2022's FIFA game was the last one by EA, and also tied into the World Cup that took place in December, which led to a strong opening month for the game.
The best-selling new game of the month was Spider-Man 2 from Sony. By combining GfK and GSD sales together, we can see that the first two weeks are nearly 9% lower than 2018's original Spider-Man, but 94% bigger than 2020's Spider-Man: Miles Morales.
Compared with last year's big PlayStation game, God of War Ragnarok, the first two weeks of sales are 2% higher for Spider-Man 2. Note: God of War Ragnarok was available on PS4 and PS5, whereas Spider-Man 2 is purely a PS5 game.
Next on the new game list is Assassin's Creed Mirage, which was the third biggest digital game of the month and the fourth biggest physical release. The game's sales are 58% lower than the opening four weeks for Assassin's Creed Valhalla, which released in 2020. However, this was always billed as a smaller Assassin's Creed, with gameplay similar to older titles in the series. The first four weeks of sales for Mirage are almost identical to the first four weeks of 2018's Assassin's Creed Odyssey.
Elsewhere, Super Mario Bros Wonder is the third biggest physical game of the month, but isn't in the digital charts as Nintendo does not share download figures with the charts company.
In terms of boxed sales alone, Super Mario Bros Wonder is the biggest Mario launch on Nintendo Switch, with 3,000 more sales after two weeks than 2017's Super Mario Odyssey and 13,000 more than 2020's Super Mario 3D All-Stars. With digital, it is very likely this is the biggest Mario launch in UK history. Nintendo has already announced it is Europe's biggest Super Mario game launch.
Also new in the charts for October is EA Sports UFC 5, which is at No.4 in the digital charts but No.33 in physical. Lords of the Fallen is at No.5 in digital and No.17 in physical. Sonic Superstars is at No.26 in digital and No.9 in physical, and the game sold significantly better in a box than it did as a download.
Just missing out on the Top Ten is Metal Gear Solid: Master Collection Volume 1, which makes No.11 in digital and No.15 in physical.
Finally, Red Dead Redemption makes the physical charts at No.10 due to the arrival of the boxed version for Nintendo Switch and PS4. The game was released on these platforms digitally back in August.
PS5 and Xbox console sales dip in October
There was a slight drop in console hardware sales in the UK, according to GfK figures. Sales dropped 10% month-on-month to 176,022 devices sold (panel data).
There was a slight dip of 4% in sales of PS5, although it was still a very strong month for Sony's console. 56% of PS5s sold in October were for the official EA Sports FC 24 hardware bundle. The Spider-Man 2 edition of the console accounted for 6% of sales.
The big decline was for Xbox Series S and X, which suffered a sales drop of 33%. The console had a strong September due to the release of a new Xbox Series S model and the hit game Starfield, which explains the month-on-month decline.
Microsoft's platforms still narrowly manages to stay ahead of Nintendo Switch, which is once again in third spot. However, Nintendo Switch sales did rise 15% over the month before, helped by the launch of Super Mario Bros Wonder. However, the new Mario red OLED version of the console was only 6.2% of Switch sales last month.
As we revealed last week, PS5 has had a 51% market over the last six months due to strong sales activity over the summer. Xbox has seen its market share drop to 23%, while Nintendo Switch has fallen heavily to 25%. GfK boss Dorian Bloch says there is a lot to play for over the final three months of the year, which tends to account for over half of all console sales during a calendar year.
In terms of accessories, 583,869 add-on products were sold in October according to GfK panel data.
That's a drop of 12% on September and 15% down on October last year.
It's an unchanged Top Five, with the white DualSense at No.1, the Carbon Black Xbox Wireless Controller at No.2 and the Midnight Black DualSense at No.3. Xbox's Robot White (No.4) and Pulse Red (No.5) Wireless Controller complete the Top Five.
UK GSD October 2023 Top 10 (Digital Only)
| | |
| --- | --- |
| Position | Title |
| 1 | EA Sports FC 24 (EA) |
| 2 | Spider-Man 2 (Sony) |
| 3 | Assassin's Creed Mirage (Ubisoft) |
| 4 | EA Sports FC 5 (EA) |
| 5 | Lords of the Fallen (CI Games) |
| 6 | Grand Theft Auto 5 (Rockstar) |
| 7 | Red Dead Redemption 2 (Rockstar) |
| 8 | Riders Republic (Ubisoft) |
| 9 | Tom Clancy's Rainbow Six: Siege (Ubisoft) |
| 10 | Hogwarts Legacy (Ubisoft) |
UK GfK October 2023 Top 10 (Physical Only)
| | |
| --- | --- |
| Position | Title |
| 1 | EA Sports FC 24 (EA) |
| 2 | Spider-Man 2 (Sony) |
| 3 | Super Mario Bros Wonder (Nintendo) |
| 4 | Assassin's Creed Mirage (Ubisoft) |
| 5 | Mario Kart 8: Deluxe (Nintendo) |
| 6 | Hogwarts Legacy (Warner Bros) |
| 7 | Star Wars Jedi: Fallen Order (EA) |
| 8 | Minecraft: Switch Edition (Mojang/Nintendo) |
| 9 | Sonic Superstars (Sega) |
| 10 | Red Dead Redemption (Rockstar) |
GSD digital data includes games from participating companies sold via PC digital stores, Xbox Live, PlayStation Network, Nintendo Eshop. Major participating companies are Activision Blizzard, Bandai Namco, Capcom, Codemasters, Electronic Arts, Embracer Group (including Gearbox, Koch Media, Sabre Interactive), Focus Entertainment, Kepler, Konami, Marvellous Games, Microids, Microsoft (including Bethesda), Milestone, Nacon, Paradox Interactive, Quantic Dream, Sega, Sony, Square Enix, Take-Two, Ubisoft and Warner Bros. Nintendo and 505 Games are the notable absentees, alongside smaller studios.