Assassin's Creed, Spider-Man, Mario and PS5 deliver strong sales in October | European Monthly Charts
EA Sports FC 24 tops the charts for a second month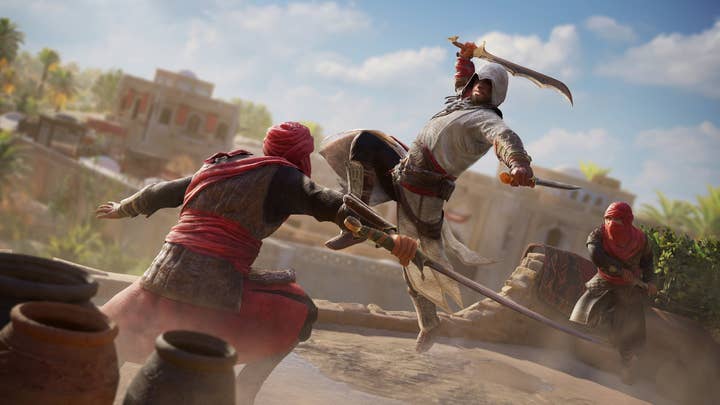 10.21 million PC and console games were sold across Europe according to GSD, a slight drop of 2.3% year-on-year.
This data covers all games sold digitally by most major games publishers across the Eurozone (for UK market analysis, click here), and physical game sales in all major Eurozone markets.
The sales decrease is still impressive when you consider that Call of Duty launched in the October sales window last year, but this year's CoD came out in November. That means Europe achieved only a slight decline despite the absence of Activision's hugely popular first person shooter.
EA Sports FC 24 was comfortably the best-selling game of the month. Sales of EA's football title were 10% lower than last year's FIFA 23, although some of that can be explained by the brand name change and the fact there was a winter World Cup last year to help generate excitement around the sport.
Ubisoft's Assassin's Creed Mirage is No.2, beating Spider-Man 2 by a very narrow margin (and Assassin's Creed Mirage was on sale for two weeks longer). Mirage's first four weeks on the market are over 49% lower than what Assassin's Creed Valhalla managed. Mirage is billed as a smaller, more classical take on the series and so there was no expectation that it would compete with Valhalla. Compared with older Assassin's Creed games, Mirage sales are 22% higher than 2018's Odyssey and 6% higher than 2017's Assassin's Creed Origins.
Onto Spider-Man 2, and the PS5 game's launch was strong, with the first two weeks up nearly 30% compared with 2018's Spider-Man, and almost three times higher than 2020's Spider-Man: Miles Morales.
Compared with last year's big PlayStation game, God of War Ragnarok, the first two weeks of sales for Spider-Man 2 are 28% lower. However, that's because God of War was also released on PS4. If we focus on just PS5 sales, Spider-Man 2 outsold Ragnarok by 8% after two weeks.
In fourth place is Super Mario Bros Wonder, although the Nintendo game may have charted higher as this data does not include download figures (Nintendo doesn't share digital numbers with the charts company). Launch sales of Wonder are double that of 2017's Super Mario Odyssey (when the Nintendo Switch install base was much, much smaller), nearly 59% bigger than 2020's Super Mario 3D All-Stars and nearly 53% bigger than 2021's Super Mario 3D World + Bowser's Fury. Nintendo has announced that Super Mario Bros Wonder is the fastest selling Super Mario game in Europe.
Also new in the charts for October are Lords of the Fallen (No.5), Metal Gear Sold: Master Collection Volume 1 (No.16), EA Sports UFC 5 (No.17), Detective Pikachu Returns (No.32), Sonic Superstars (No.33) and Forza Motorsport (No.42).
In terms of individual countries, EA Sports FC 24 was No.1 in most markets, but things differ in terms of the second position. The second best-selling game of October in France is Super Mario Bros Wonder, in Germany it is Assassin's Creed: Mirage, while in Italy and Spain it is Spider-Man 2.
Over in console hardware, PS5 is comfortably the No.1 console in Europe (across tracked markets, UK and Germany not included). PS5 sales are up 143% over October last year, driven by the availability of stock this time around. Nintendo Switch is at No.2 despite a 20% drop in sales compared with last October, while Xbox Series S and X sales continue to struggle in Europe, down 52% year-on-year.
In total, 481,000 consoles were sold across the tracked markets in October.
Compared with September, overall market sales are up nearly 16%, PS5 sales are up 11%, Switch sales are up 10% and Xbox sales are down just under 20%. Please note: Xbox's big exclusive of the year (Starfield) launched in September, while PlayStation and Nintendo's big games (Spider-Man 2 and Super Mario Bros Wonder) launched in October.
In terms of peripherals and accessories, 1.14 million products were sold across tracked markets (down 3.6% year-on-year), while wallet/point card sales are down 4% to 969,818 units sold.
European GSD October 2023 Top 10 (Digital + Physical)
| Position | Title |
| --- | --- |
| 1 | EA Sports FC 24 (EA) |
| 2 | Assassin's Creed Mirage (Ubisoft) |
| 3 | Spider-Man 2 (Sony) |
| 4 | Super Mario Bros Wonder (Nintendo)* |
| 5 | Grand Theft Auto 5 (Rockstar) |
| 6 | Lords of the Fallen 2023 (CI Games) |
| 7 | Battlefield 2042 (EA) |
| 8 | Hogwarts Legacy (Warner Bros) |
| 9 | Red Dead Redemption 2 (Rockstar) |
| 10 | It Takes Two (EA) |
* Digital data unavailable
GSD digital data includes games from participating companies sold via Steam, Xbox Live, PlayStation Network, Nintendo Eshop. Major participating companies are Activision Blizzard, Bandai Namco, Capcom, Codemasters, Electronic Arts, Embracer Group (including Gearbox, Koch Media, Sabre Interactive), Focus Entertainment, Konami, Marvellous Games, Microids, Microsoft (including Bethesda), Milestone, Nacon, Paradox Interactive, Quantic Dream, Sega, Sony, Square Enix, Take-Two, Ubisoft and Warner Bros. Nintendo and 505 Games are the notable absentees, alongside smaller studios.
Digital data includes games sold in Austria, Belgium, Bulgaria, Croatia, Cyprus, Czech Republic, Denmark, Finland, France, Germany, Greece, Hungary, Iceland, Ireland, Italy, Luxembourg, Malta, Netherlands, Norway, Poland, Portugal, Romania, Russia, Slovakia, Slovenia, Spain, Sweden, Switzerland, Turkey and Ukraine.
Physical data includes all games, but only those sold in Austria, Belgium, Denmark, Finland, France, Germany, Italy, Netherlands, Norway, Poland, Portugal, Spain, Sweden and Switzerland.
Console hardware sales cover Belgium, Denmark, Finland, France, Italy, Portugal, Russia, Spain, Sweden and Switzerland. Accessories sales cover the same markets, but doesn't include Switzerland.